I have seen two absolutely
great
animated films in the last week. I actually don't have much to say about either movie, except that you need to see both of them
Fantastic Mr. Fox
is the new Wes Anderson movie. It is also his
best
movie, if you ask me, since
The Royal Tenenbaums
. It is a tight little story, beautifully characterized. Jason Schwartzman is his typical anxious, delightful self--this time in the body of a young fox. The film is stop animation and is at times absolutely stunning, visually. It is also absolutely hilarious. It's frequently absurd, often bizarre, and at times completely nonsensical. I loved it.

The Princess and the Frog
is the new film from Ron Clements and John Musker, the guys who gave us
Aladdin, The Little Mermaid, Treasure Planet,
and
Hercules
. I love all of their previous collaborations, obviously, and I loved this one too.
The Princess and the Frog
is, of course, notable for several reasons: It is the first Disney princess movie with a black girl at its center. It also breaks from the Disney princess tradition of absent mothers. Tiana's mom is alive and well, and tells fun stories (and is played by, um, Oprah [!])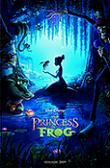 Another thing I loved about
Princess/Frog
was its constant attention to money. The film does not only extol the value of hard work, it steers clear of the sentimental trope of awarding money to two young people simply because they are in love. Tiana and Naveen get jobs after they fall in love and get married. They are a prince and a princess but they
work
, y'all.
Princess/Frog
is really, really funny, too. The actor who plays Prince Naveen, Bruno Campos, has excellent timing, and he is hilarious throughout. Anika Noni Rose (who plays Tiana) has a fabulous voice, obviously (you should remember her from
Caroline, or Change
--for which girlfriend won the Tony--and the film version of
Dreamgirls
.) Randy Newman has written some delightful songs, and she sings them beautifully. The hand-drawn animation is gorgeous. The side characters are funny. The large amount of jazz in the score is fun, danceable, and always upbeat. The villain is Keith David!
I could go on and on about
Princess/Frog
, actually. I thought it was great. And I really hope Disney has already started on their next animated film with a black protagonist; Tiana is good enough that she deserves a little company.