After waking up groggy and tired (up too late: Paul Provenza's
The Aristocrats
, remember?) Julie and I lugged our enormous suitcases (okay,
my
enormous suitcase: to be fair, Julie packed light) downstairs and back to the car. Breakfast (if you can call it that) was free at our hotel, but gas at the Grand Canyon was a whopping $3.60! Anyway, we went back to the Grand Canyon, which had been so nice in the twilight and during nightfall. In the evening there had been only a few people, looking around and being, mostly, quiet. On Sunday morning there were droves of people. Literally. We could barely find somewhere to park. We got a lot of great photos, though, and the Canyon looks even more awesome and big the next day. I kept repeating over and over, "unbelievable." I kind of still don't believe how big that hole in the ground is. More pics: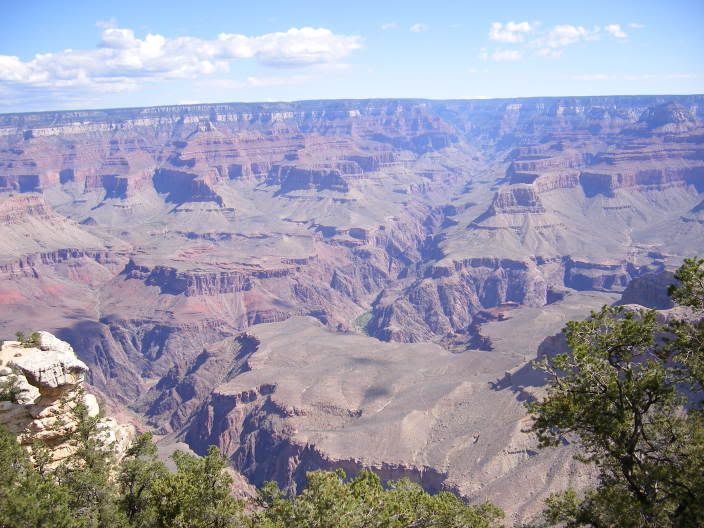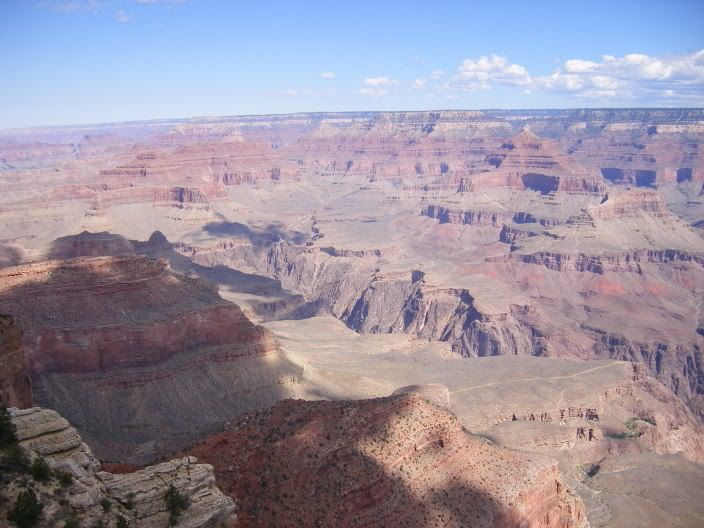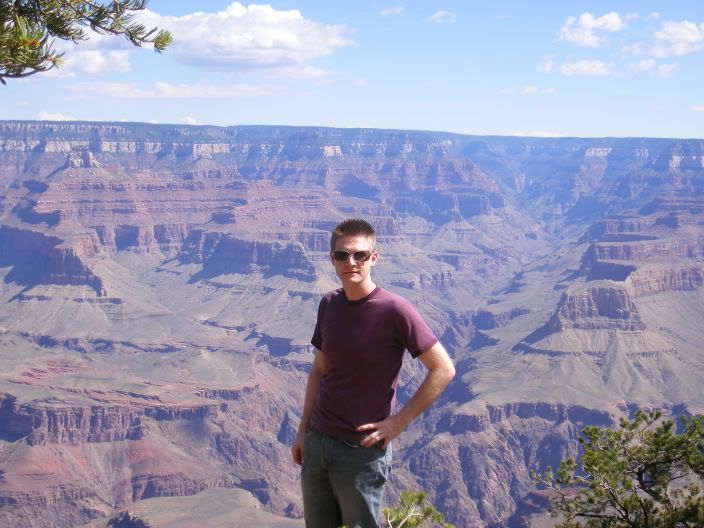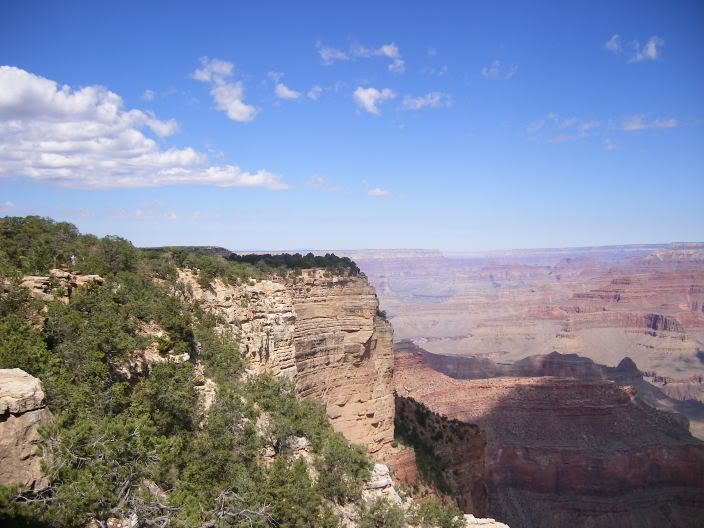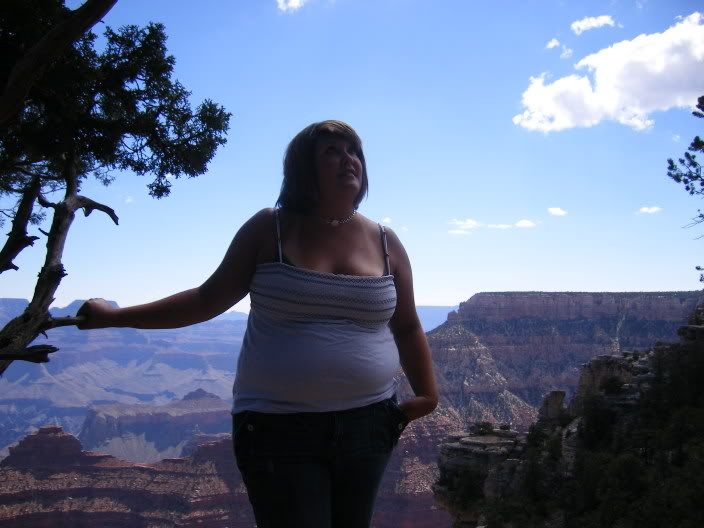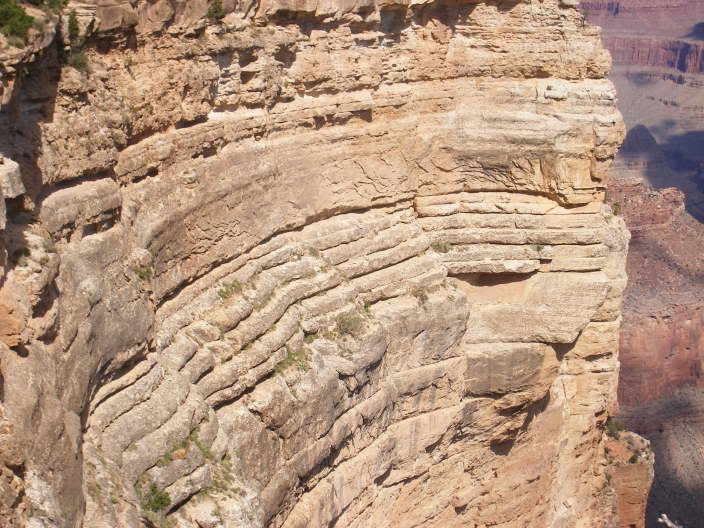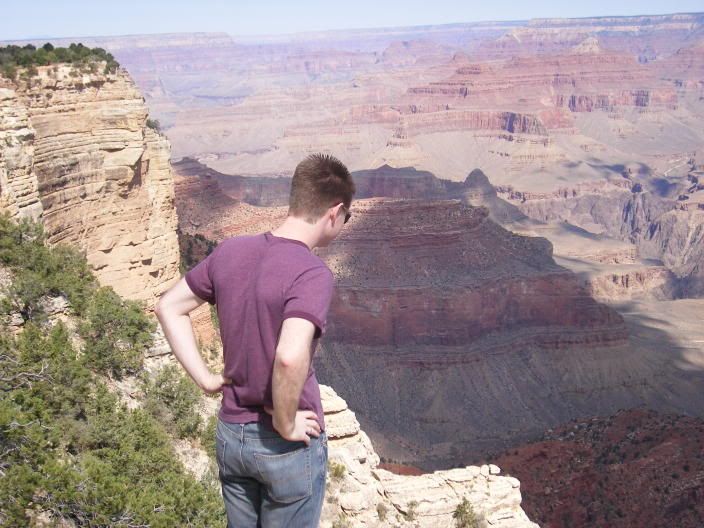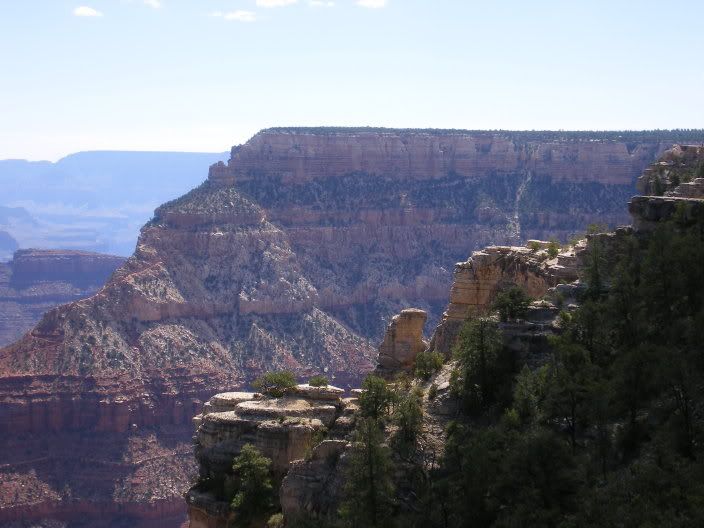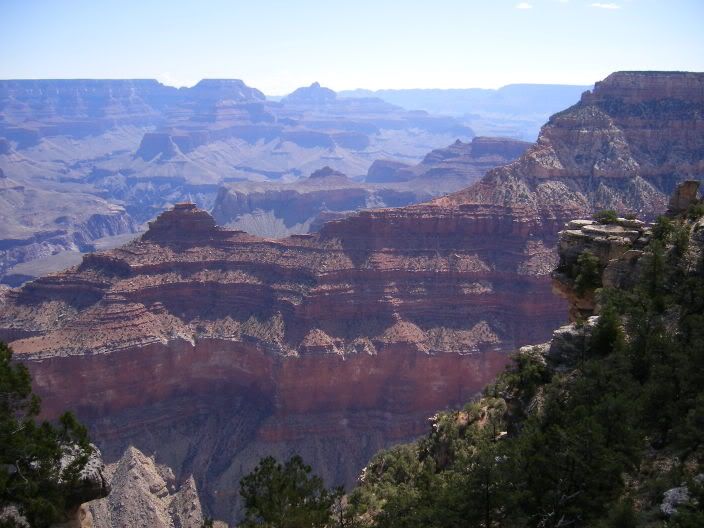 We left the Canyon a little earlier than I had planned on leaving. I had arranged that Sunday would be our shortest driving day; I figured we'd spend some time at the Canyon and then head off toward Marfa TX, which was our next true destination. Thing is: from Grand Canyon AZ to Marfa TX is about 13 hours and I wasn't about to drive that in one day, much less a day where I had planned to spend a lot of time at the National Park. So, I figured we'd leave the Canyon around 1:00p, drive for five hours or so, camp out, and drive the next 8 hours to Marfa on the
following
day. Leaving so early, this really meant we were going to get into the Podunk town I had booked us in around 3:00p. These pics are from the drive into Eagar AZ, where our hotel was (don't ask me where Eagar is on a map; all I know is that it's close to the AZ/NM border and it was a damn cheap night's stay: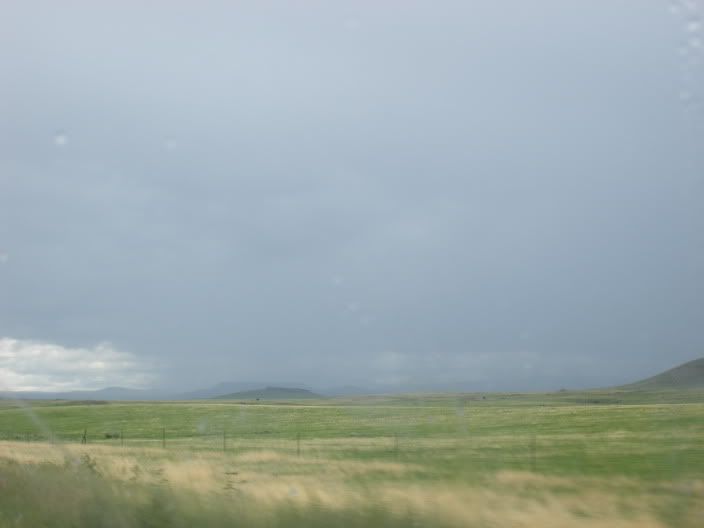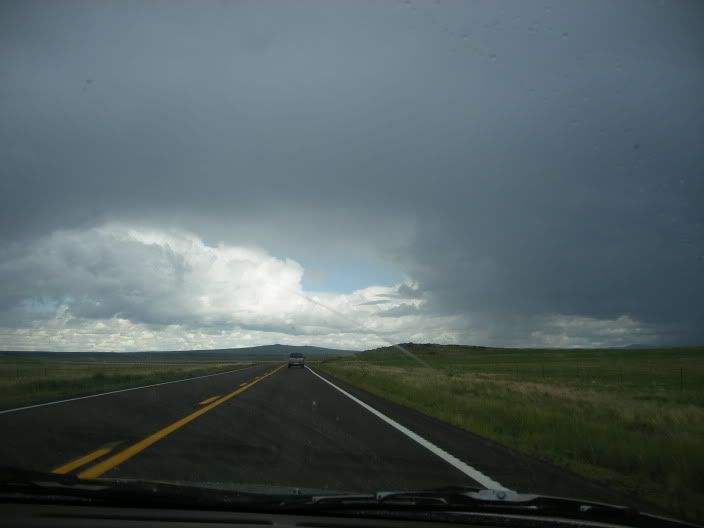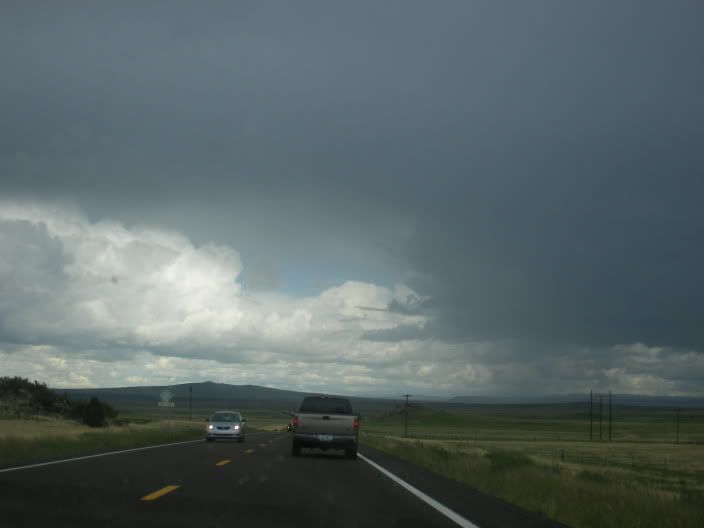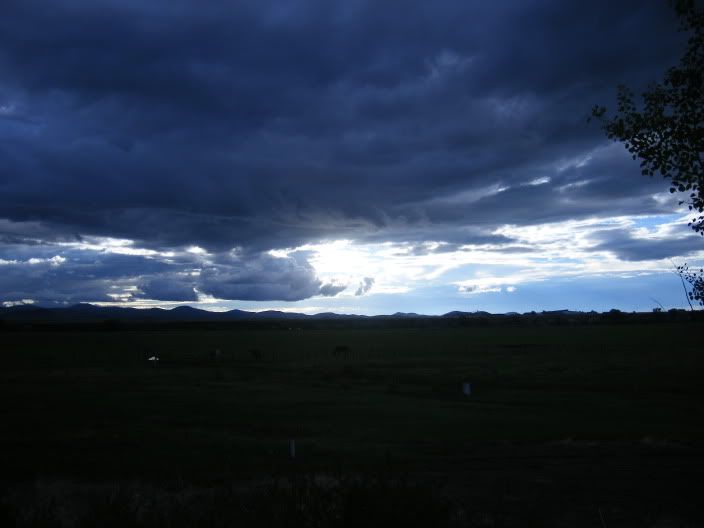 We indeed did get into Eagar AZ around 3:00p. I promptly did two things upon check-in. 1.) I renamed the town
Jäger
and 2.) I inquired where I could check my email. I was promptly told that
the
coffee shop in town (a cute joint named Java Blues) had free internet. Sweet. For dinner, Julie and I had decided on Mexican food. The concierge at the Best Western recommended Booga Red's Restaurant. Julie was skeptical but I held out hope for Booga's. Jäger AZ was turning out to be not so bad after all.
Not so. The coffee shop—and mind you, this is at 4:00 in the afternoon on a Sunday—was closed. And, as it appeared,
everything else in the town was too.
Julie, still thinking Booga Red's sounded dubious, steered me toward somewhere called Los Dos Molinos Mexican Reastaurant and there wasn't a soul in sight. On closer observation, we noted that Los Dos Molinos was closed on both Sundays
and
Mondays. Not a lot of call for Mexican food in Arizona's White Mountains, I guess (this doesn't seem right, but what do I know.) Booga Red's it was. I parked in the back which led straight toward something called Tequila Red's Cantina. I boldly entered with Julie trailing (sheepishly) behind. Could we eat there?
"Sure, we'll set you right up" our slightly older but nice-as-ever waitress told us. We promptly ordered a margarita apiece (Julie ordered our waitress's special Blue
Curaçao
margarita) and I proceeded to eat one of the best Enchilada Suiza platters I've ever had: delicious cheese enchiladas smoithered in fresh homemade green chile and sour cream. Yum. We had another margarita apiece (strongest fucking margaritas I've had in a long time, too, let me tell you) and each had a beer, too, before we left Booga Red's. Our waitress by this time was totally in love with us, had gotten off shift, started drinking, introduced us to her ex-husband, her dogs and implored us to come back and describe our adventures too. She was the sweetest lady and told us that she loved us (she was drunk by this time) and that we were, like, her favorite customers of all time. (I don't blame her. We were pretty damn fabulous in comparison with that place. That cantina was filled with some seriously grizzled old and unkempt men and they had classic rock playing loudly on their XM radio.) But the food was good and the margaritas were strong and it all cost something like $32.00 and let me tell you we were
drunk
.
So we went to Dairy Queen. DQ's are everywhere. All across the Southern border of the country. There's one, like, every five miles in Texas and they pepper the little towns in Arizona and New Mexico, too. I can't even remember the last time I'd been in a DQ, but Julie and I made quick work of our Blizzards or whatever they're called and then took this picture: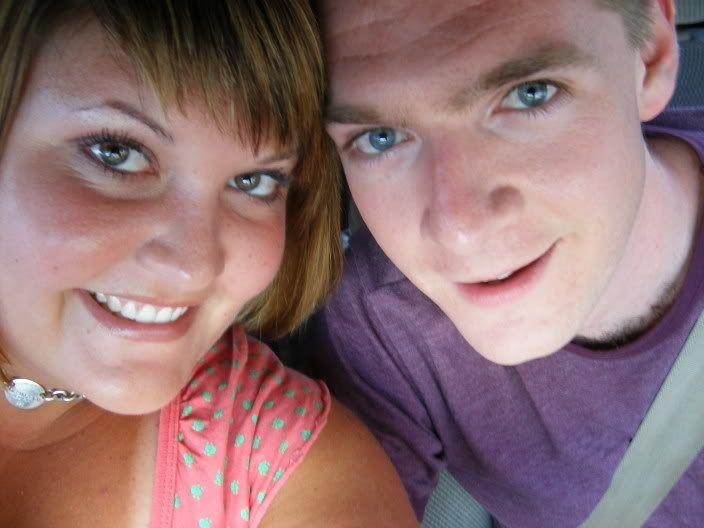 We were drunk and eating ice cream and it still wasn't dark, but we went back to the hotel and I went to sleep. She stayed up longer and finished her borrowed copy of
A Heartbreaking Work of Staggering Genius
. I was so tired, though. All of that driving was so unexpectedly exhausting, and Jäger was so empty...
More tomorrow...