I went grocery shopping for the big bash tomorrow. Hopefully, the food will all come out lovely. I get so nervous about this sort of thing. I also did my tax return! I get $101 dollars back from the Feds and I owe the State of California $36. Fascinating, I know.
In addition to doing all of the shopping and reporting my income to the Internal Revenue Service, I also found time to sit down and re-watch James Ivory's
Maurice
. I rarely re-watch films, as you know, (there are so many I
haven't
seen, why spend time watching one I have?) but
Maurice
has been calling to me since I got it for Christmas.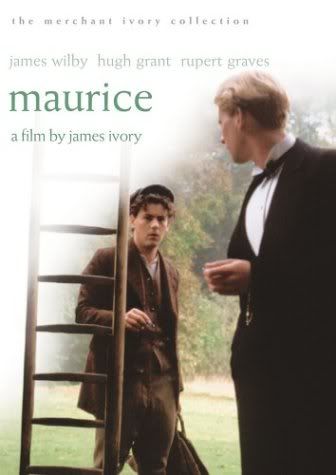 The Tale of Maurice and Its Enormous Impact on My Life
Leading up to high school and all during high school, I spent most of my free time reading. I read a lot of important stuff like Dostoyevsky as well as a lot of fluff like Agatha Christie. After high school, I really began to start watching movies. I used to have perpetual Blockbuster rentals at my house. I would rent two and then when I had to return the two I would rent another two. Film after film... the whole summer of 1998. My friends and I went to movies in high school, sure. (I notoriously dragged them to see Eastwood's
Midnight in the Garden of Good and Evil
, and we saw
Titanic
three times in the theatre.) But it was after high school that I really started to have an interest in film. I saw John Madden's
Shakespeare in Love
that fall with my sister. Jaime, Aaron Bell and I went to see
Elizabeth
. This was also the year of
Saving Private Ryan
, which I suffered through with some people from church (they picked it, not I). I decided that I would see the other two movies that were nominated for Best Picture that year, and that led me to seeing
Life is Beautiful
in the beginning of 1999 and then going to the cinema alone for the very first time to see Terrence Malick's incredible
The Thin Red Line.
By then I was checking the paper to find screenings of independent films and reading about cinema online and elsewhere. I quickly became a lover of Woody Allen and started to watch movies from specific directors; I began to pay attention to a director's stroke on a film: something I never knew a thing about.
I was in the closet back then as you can imagine. After awhile, without really knowing that's what I was doing, I began to seek out films that spoke specifically to me as a gay youth. I can't really remember when I first saw
Maurice
, but I remember that it had a profound effect on me. It was
Maurice
that first gave me an example of a homosexual man who made his life work. He wasn't a queen who had to die like the hero of Puig's
Kiss of the Spider Woman
and he didn't end up humiliated and alone like Oscar Wilde. Maurice Hall found a love that made him happy and hung on to it. It isn't a romantic comedy, but it's a beautiful romance, and I think this film, before anything else came along, told me that what I knew I was was something that was okay.